Update:
George Beccaloni's more recent post on this exhibition far outshines mine. Go read it. Among other things, George tells us that the display at Tring is

not

just a repeat of the South Kensington display as I thought, but will be "a greatly expanded version of the London Natural History Museum's small exhibit". Hooray!
To celebrate the
150th anniversary
of the joint reading of Alfred Russel Wallace and Charles Darwin's papers on natural selection to the Linnean Society in London, the Natural History Museum exhibited a small but spine-tinglingly historic display of specimens and original documents relevant to the independent conception of the theory of natural selection by the two men:
"Happy birthday, evolution"


The Darwin-Wallace 150th anniversary display at the Natural History Museum at South Kensington this summer. The case will go on display again from 13th October 2008 - 18th January 2009 at the Natural History Museum at Tring (photo by Alex Gaffikin).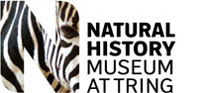 The objects, including one of Wallace's bird of paradise specimens and the skeleton of one of Darwin's domestic pigeons (onto the bones of which he inked his annotations directly) were on display at the museum in South Kensington for just one month this summer.
But never fear, you haven't missed your chance: the exhibition is going on display again from 13 October 2008 - 18 January 2009 at the
Natural History Museum at Tring
, a lovely, rural satellite campus of the main museum and home of the museum's amazing bird collections and Walter Rothschild's (largely unchanged) Victorian natural history museum.